Geothermal Systems Grand Rapids Michigan
Geothermal Systems can save a lot of money in the cold West Michigan winters.  While your energy costs will go down dramatically, it costs more to install a geothermal system but savings over the long term can be worth it.  At Mazure's Heating & Air Conditioning, we repair, replace, design and install Geothermal systems in the greater Grand Rapids Michigan area.
Click to Call us Now: (616) 669-8085
What is a Geothermal System?
Your refrigerator removes heat from the interior and transfers it into your kitchen, making the fridge interior cold.  A geothermal system (heat pump) uses the same principle but it moves ground heat to your house.  It can do this through loops of underground pipe filled with an antifreeze or water.  The loops are hooked up to the geothermal unit in your home which acts as both a furnace and air conditioner.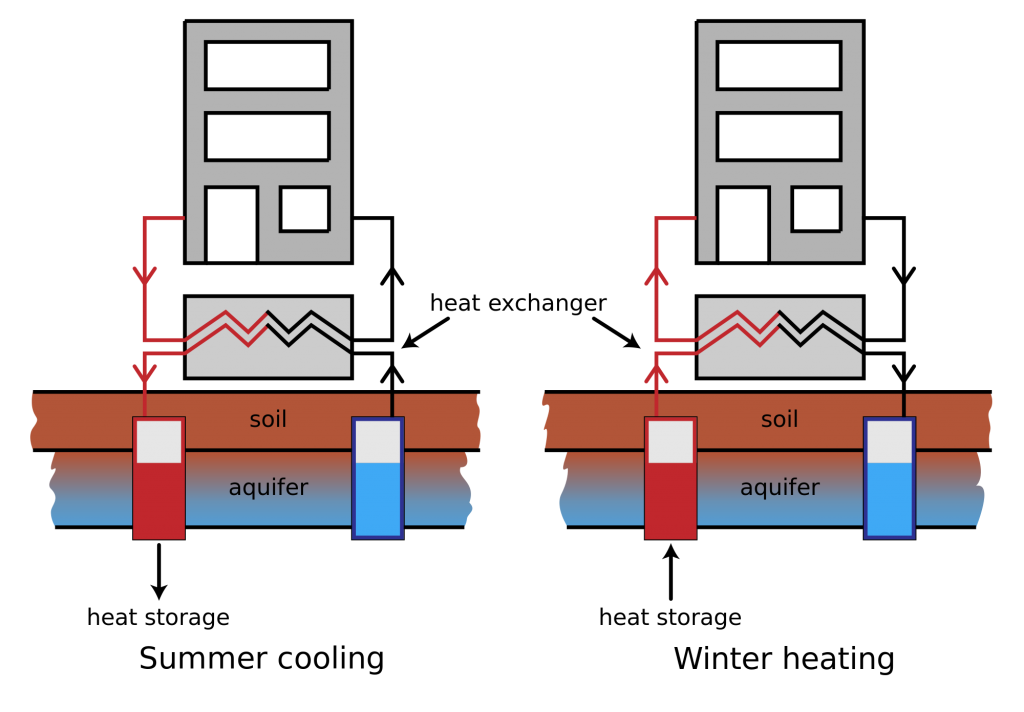 When heating, the loops of liquid pull heat from the ground and it goes through your geothermal unit and passes over the refrigerant coils where the heat is distributed through forced-air or hydronic system.  Typically the ground remains around 50 degrees no matter what time of year it is (Grand Rapids area).  To cool during the summer, the process runs in reverse.  The geothermal pump removes heat from your house and transfers it to the earth (much like your refrigerator cools).  Air conditioners use outside air as the transfer medium, geothermal systems use ground temperature and loops of liquid.
Geothermal systems are much more efficient because they don't burn fuel to create warmth.  Geothermal simply moves existing heat from one place to another.
Below are some things we believe you should know about Geothermal Systems:
They are expensive to install (50% higher than traditional Heating & Air Conditioning)
Geothermal will save you 30-60% on your heating costs.
Geothermal cooling will save you 20-50% over traditional air conditioning.
SAFE – Geothermal units use the sun, eco friendly.
No combustion so no emission of Carbon Dioxide, Carbon Monoxide, or other greenhouse gases.
Quiet – no noisy compressor or fan.  Comparable to a refrigerator sound.
Can be installed new or retrofit.
Low Maintenance – 25+ years for the unit and 50+ for the ground loops.
If you're building a new home and can afford the upfront cost of installing a Geothermal system we highly recommend doing so because the savings will far outweigh the costs.
Geothermal Systems Repair Grand Rapids
Geothermal Heating & Cooling systems are relatively low maintenance but when they fail you'll need an experienced technician to get you back up and running again.  Mazure's repairs and installs geothermal systems.  We service all major brands of heat pumps in the Grand Rapids area.  If you need any geothermal repairs or have any questions at all about a new system, don't hesitate to contact us.
Click to Call us Now: (616) 669-8085